Always
include your email address, as this mailform will not automatically know your email address.
Lead times are usually 4-14 days. Very large orders could take longer. Order early for time sensitive deliveries.
Product is too large for FedEx or UPS. Most orders are shipped by truck.
Call for questions
LC Enterprises.... 363 W 3rd Street Perris, CA 92570 (951) 940-6068 (951) 657-0180 Fax Email us!
Delivery trucks will generally deliver to your location, however, upstairs deliveries can cost more. If you need an upstairs delivery, please specify in the comments section to the right, so that we can corretly quote your order with this added feature.
LC Armored Panels are manufactured when ordered. Please allow a week or two for shipment.
If you would like to order just the bullet resistant fiberglass cores; We can supply them at sizes up to 4'X9' and protection levels up to "6". Please submit your request and we will fax you our quote.
For Government buyers, we are registered with the Central Contractors Registration (CCR)
If you need it shipped fast; We can use a "fast" transport company, but they charge more. Specify your needs in the "comments" area.
Leasing is available through various leasing agents. Let us know if you are interested, and we will have an agent contact you.


Complete the following and request a quote
Note: Normally, full payment is required prior to shipment of any products. Quotes are free! We have a machine shop. If you need anything special, just let us know, we may be able to help..
Freight Damage: It doesn't happen often, but it happens. If you recorded the damage on the delivery receipt, at the time of delivery, fax a copy of that receipt to us. We will provide replacement products and file a damage claim with the carrier.
If you didn't record the damage on the delivery receipt, at the time of delivery, then you will have to file a claim with the freight company, and we can provide replacement products if pre-paid by you.
Moral: Always note any damage at the time of delivery, and contact us for help. Do not let any "slick" truck driver talk you into anything less than a full acknowledgement of the damage. And make sure the damage is written on the delivery receipt, in full view of that driver. The driver needs to sign next to your signature. Doing this right will save alot of headaches later
Refunds are available for popular sized panels such as standard non ballistic 48"x72", panels as long as product is returned in original good condition within 30 days of being received. Custom ballistic or unusual sizes, and Supersize panel sales are final. We do not cover or refund shipping charges. If your order is cancelled prior to shipment, there will be a 50%-100% restocking fee depending upon our costs invested in your order. Manufacturing panels takes labor and raw materials and is expensive for us. Please be certain and committed prior to ordering. Typical lead times can range from 2 to 8 weeks or longer depending upon our workload and arrival of raw materials from vendors. Please understand that discussions of lead times are only a rough guess. We cannot make any promises or guarantees regarding lead times. All we can guarantee is that we will ship when job is done.
A rough sketch of your intended layout can help. Just fax it to (951) 657-0180.
We will fax (or email if your fax is unavailable) a shipping quote to you if you fill out the form below and press "submit". After you review the quote, if you decide to order, we accept Visa, M/C, AMEX, Discover, company or personal checks.
LC Custom Office Panel Systems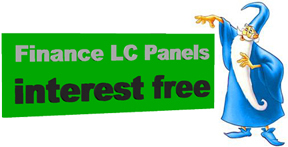 Easy! Just click the link above, and fill out the form. Many plans available, like "0" interest for up to 90 days. Check it out!