We can make panels using a variety of surfaces. Examples are, Coroplast, Dry Erase board, Chalkboard, Hook&Loop (Velcro), Woodgrain, Tileboard, Pegboard, FRP, Stainless Steel, Laminates, etc.
Dual surfaces are available, for example; We can put Dry Erase board on one side and fabric on the other side. The prices vary, but we promise to keep them very competitive. Tell us your needs and request a quote!





363 W 3rd St., Perris, CA 92570
(951) 940 6068 Business, (951) 657 0180 Facsimile


Lots of choices, all easy to clean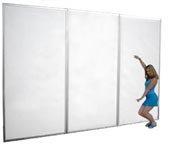 • Easy to clean and maintain.
• Huge variety of attractive surfaces to choose from.
• Coroplast, plastic surface, lots of colors, low cost.
• Polywall, fiberglass reinforced plastic surface, very tough.
• Laminates, like your kitchen countertop. Lots of prints and styles.
• Stainless steel, the ultimate in longevity, classic beauty.
• Vinyl over PVC, low cost, lots of styles and patterns.
• Dry Erase, write using a dry erase marker, then wipe clean.
• Other surfaces may be possible, ask if you don't see it listed.
Coroplast
PVC
Laminate
Stainless steel
Dry Erase
Velcro compatible
$239
$299
$369
4'x6'
4'x8'
4'x10'
$650
Sizes up to:
$229
$229
$479
$259
$229
Polywall
Coroplast, or PVC
Polywall, white or almond
Laminate, lots of styles
Stainless steel, brushed finish
Regarding laminates, below is just a small sample of colors and patterns available. Some sufaces may cost us a bit more. Tell us what you are interested in, and we will fax/email a quote to you.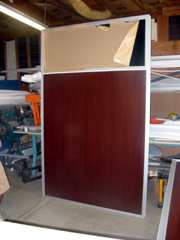 We typically use Wilsonart or Formica laminates. Your local Home Depot or Lowes store should have a laminate "chip board" on display in the Kitchen Bathroom cabinetry department. A large variety of sample laminate chips are available for viewing. We only need the style number on the back of the chip, in order to get the same exact style for your panels.
We offer a variety of smooth surfaces, depending upon your needs. For instance, polywall is a great choice for rough, commercial applications. Laminates are great for matching other decor, and is very durable. Coroplast has a nice low cost, and lots of solid colors are available. If you need a panel with a partial surface in dry erase board, or chalkborard, we can do that too.
$650
$650
$229
$239
$299
$339
$229
$229
Compare LC Panels, our prices, our custom work, and our speed with any competitors:
Funny cubicle thoughts:
On behalf of cubicle dwellers everywhere, we think that cubicles could include certain features that make cubicle exsistence more palatable:
1) Video camera/monitor that watches the boss, so you can see his whereabouts and mood.
2) Lockable one-way reflective glass door, so you can see who wishes enter into your cubicle.
3) Special cubicle hammock, that swings out for use in the afternoons.
4) TV monitor mounted in the ceiling, complete with satellite reception and a remote.
5) Cubicle sound machine, that generates typical office sounds, coming from your cubicle.
6) Direct cubicle intercom that enables vocal contact to your best friend, in the other cubicle.
7) Private secretary that actually performs all of the work that the cubicle dweller is supposed to do.
8) Special cubicle disco ball and music that turns on, whenever you think of something great.
9) Special cubicle clock that starts your shift 30 minutes late, and ends 30 minutes early (maybe 45).
10) Coffee/cappucino machine built into cubicle wall

Whether called office walls, office panels, office partitions, or just "panels", These interior separators will allow office workers to have a little more privacy, which theoretically will allow these workers to focus better on their respective tasks. What we offer at LC Enteprises is a very cost effective way to accomplish this goal. We have the lowest price of any manufacturer of this kind of product. However, getting this information to the consumers is a challenge.
Google is currently 80% of the search engine market, and we seldom appear at the top of the website rankings. Many larger panel websites rank higher than our website. There prices are much higher, and so, we wonder if they are getting any orders. However, their popularity on the search engines is undeniable. This seems to be due to the number of pages and links contained in the website. If a person types "Office partitions, panels", into the google search engine, we come up on page 1. However, if the person types: "Office partitions, panels, cubicles" into the google search engine, we appear back on page 5.
Some folks type "office walls, office cubicles", or just plain "cubicles", and we're not sure where we end up. We're so far back, that it's too hard to look for our website.
The keywords and phrases that we can think of would be: Office panels, office partitions, office walls, office dividers, panels, partitions, walls, dividers, room dividers, room walls, room partitions, room panels, cubicles, office cubicles, room cubicles, modular walls, modular cubicles, modular dividers, modular walls, modular panels, temporary walls, temporary panels, temporary cubicles, temporary partitions, temporary dividers. Beyond that, we can't think of any other words that a potential customer would type into a search field. Now, it seems we are adding words and text to our website, which doesn't help our customers. We are simply trying to increase our rankings with the search engines, in an effort to find customers. Such is the animal. We hope you will understand the nature of running a business on the internet, and tolerate the redundant information, useless text, and links to everything. We know that this does not really optimize the website for our customers. However, it can help to optimize our rankings, which helps customers find our website. In the end, we want to stay in business, and we must adapt to the search engine monsters, or perish. As aforementioned, such is the animal.
Here is a very nice laminate panel for
Legend Exteriors and Construction
. They chose this wood laminate style and asked for smoked acryic at the top. These are huge at 5"Wx 8"H. Because of the size, they are fairly expensive, but they have a very imposing look. They will make most people stop to admire them. (protective film covers the smoked acrylic)

LC Custom Office Panel Systems
The above pricing is a guide. The price also depends upon your desired design. Most likely, our price will still be lower than anyone elses price.